On October 14, 2022, STEM research students, Rutgers faculty, Douglass staff, and distinguished guests gathered to share in an evening of knowledge, new ideas, and celebration of Douglass students in STEM. The annual Project SUPER Undergraduate Research Symposium and this year's STEM Lecture were held in-person for the first time since the start of the pandemic.
"The symposium made my research experience notable," said Isha D. Patel DRC'24, a cell biology and neuroscience major and Project SUPER student. "I felt confident in my work and that I was able to educate others of the purpose my research serves for the greater community. The symposium helped to bring together professionals of various fields to empower growing women like us to learn from each other." Click here to read more!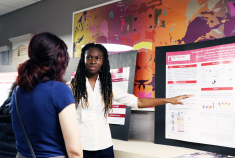 Project SUPER (Science for Undergraduates: A Program for Excellence in Research) is an enrichment program that offers Douglass students in STEM majors, who have no prior college level research experience, the opportunity to participate in active research early in their education. Since Project SUPER's establishment in 1993, participants in the program have been given the opportunity to work on challenging research projects and launch careers in STEM.
Project SUPER scholars learn the basics of conducting research at the university level, earn certification to work in a university research area, and are paired with a principal investigator under whose guidance they conduct academic research. A key goal of the program is to increase gender diversity in graduate STEM programs and the STEM workforce.
According to Grace Ekpe DRC'24, a junior majoring in electrical engineering, Project SUPER is a critical experience for STEM majors, opening doors to career-building experiences in the laboratory.
"Programs like Project SUPER are very important, especially because they are intentionally designed for students without any prior research experience," said Ekpe. "It allows any Douglass student interested in pursuing any area of study to get technical and lab experience."
For Patel, Project SUPER also helped develop lifelong analytical skills that propel successful research careers.
"Doing this research was truly a rewarding experience," she said. "I found that research is an important component of critically based thinking and applicative learning. I came out of the program knowing how to sift through details and make evidence-based conclusions. Not only this, but I also learned how to communicate findings—a critical skill I learned from my principal investigator which prepared me for the symposium."
Throughout the coming years, Patel plans to continue to work in the lab with her Project SUPER mentor. After she graduates, she will pursue a master's degree in public health before continuing on to medical school
"I couldn't have asked for a better program than Project SUPER to guide me to where I am," she said. "My gratitude goes out to Project SUPER and the Douglass Residential College for giving us such great opportunities to grow. I cannot leave college without keeping this family in my heart."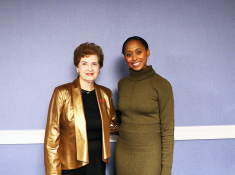 The event also featured the annual STEM Lecture sponsored by Dr. Eileen Poiani DC'65. The Douglass Annual STEM Lecture brings in nationally recognized thought leaders and scientists for an evening that celebrates knowledge, academic excellence, and women in STEM. This year, Dr. Rae Wynn Grant, a wildlife ecologist, spoke to students on the importance of research.
"Dr. Rae-Wynn Grant was an exceptional professional who connected with us on both a professional and personal level," Patel said. "She was able to verbalize her experiences throughout her journey of research and how she grew into the incredible researcher she is today in studying nature's effect on wild species."
The College would like to thank our visionary donors who make Project SUPER possible. If you are interested in supporting the Project SUPER program or any other of the Douglass Women in Science and Engineering programs, please contact drcadvancement@echo.rutgers.edu.