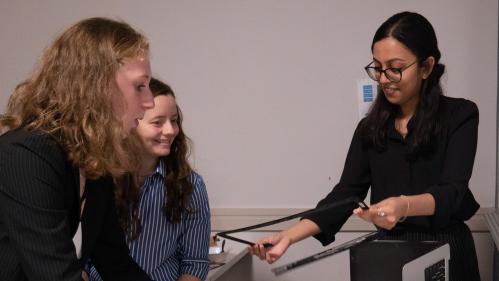 Douglass Faculty Fellows
Offering students opportunities for hands-on research, collaborative experiences, social justice initiatives, arts programming, and more.
About
The Douglass Faculty Fellows Program is a new Douglass initiative open to all students that brings cutting-edge professionals to campus to work directly with Douglass students on their projects and research. Fellows include innovators from a variety of fields, including the fine arts, social justice, medicine, academia, activism, and more. Students may be eligible to receive a stipend for their work. Read more about past projects below!
The Rhythm of Rebellion with Taína Asili
Work with with Taína Asili, an artist who has cultivated a 25 year-long career as a singer, songwriter and multidisciplinary artist contributing her work to movements for racial, gender and climate justice. Asili will guide participants in a process of social justice songwriting, first turning our concepts into lyrics, and later, transforming these words into powerful musical creations. Participants will also explore historical and contemporary social change songs and songwriters throughout the world. No prior experience in music or songwriting required. All who are interested in exploring the process of creating art for social change are welcome.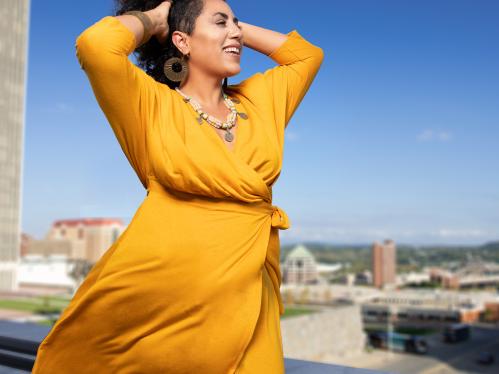 The Pronoun Project: Towards a Beloved Community for Trans and Nonbinary Rutgers students with Dr. Carlos Decena
Students will work on all aspects of a Rutgers-wide, tri-campus survey, documenting situations and conditions under which trans and non-binary Rutgers students negotiate pronoun use and misuse, the challenges they find in ensuring that peers, colleagues, professors, and supporters appreciate and engage students following their preferred pronouns, and the attendant challenges connected to pronoun misuse. No experience conducting research is necessary, but openness is crucial. Trans and non-binary students are especially welcome to get involved. A report will be presented to President Jonathan Holloway, to each of the Chancellors and the Chancellor-Provost, and to the broader university comm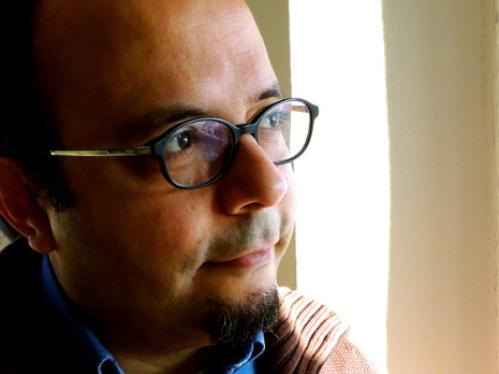 Artist-in-Residence Baseera Khan
Students will work with Baseera Khan, a New York-based performance, sculpture, and installation artist recently featured in the Brooklyn Museum. Khan will collaborate with students on an art project that combines mediums exploring the fine line between desire and surveillance.
About Baseera Khan
Baseera Khan is a New York-based performance, sculpture, and installation artist who makes work to discuss materials and their economies, the effects of this relationship to labor, family structures, religion, and spiritual well being. Khan is currently working on a public art commission on The High Line for fall 2023. Khan mounted their first museum solo exhibition at the Brooklyn Museum of Art, New York (2021-22), and opened their first solo touring exhibition in Houston, Texas at Moody Arts Center for the Arts, Rice University (2022-2023).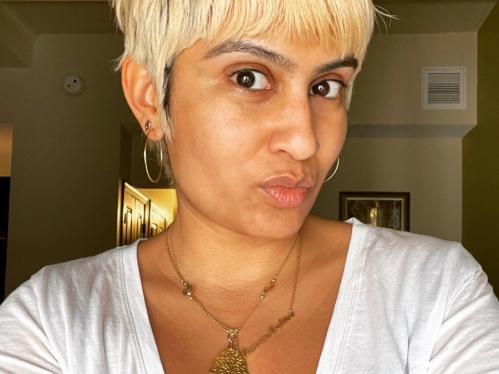 Equity in Education Research With Hollie Hartford
Explore how transforming our K-12 system to be more diverse, inclusive, accessible and just will create a pipeline to success for marginalized groups. Students will work with Hollie Hartford to explore the research question: What are the systems, resources, structures, and processes needed to hire educators and leaders to transform the educational system so that every student can reach their full potential? Students will use an entrepreneurial lens, learning the foundations of launching a venture beginning with building a business plan, creating a pitch deck and delivering a presentation.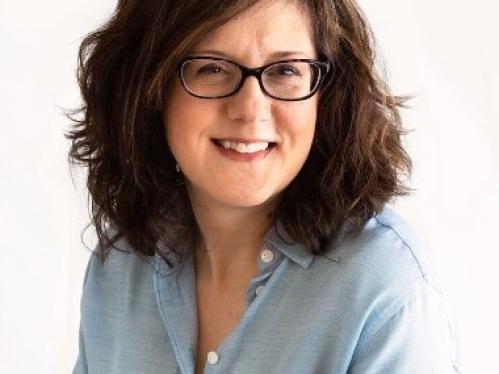 Black Women Printmakers: A Project with kyle b. co.
Work closely with artist kyle b. co. in intensive workshops that will prepare you to become an arts scholar, print-maker, and paid museum guide for the upcoming fall 2022 exhibition, Collective Yearning.

In spring 2022, students will work with kyle b. co to learn about the history of Black women artists exhibiting and organizing. Special focus will be given to the exhibition's history and composition of the Dana Women Artist Series and collection at the Douglass library. Students will learn about the artists in the exhibition and the techniques used in the production of the works, including print-making–the primary medium used and exhibited by the artists featured in the exhibition. In fall 2022, continue to train with kyle b. co to work as a museum guide, presenting tours to university staff, faculty, students and the broader community during the exhibition. Stipends will be provided for students who work as guides in fall 2022. Students from arts, humanities, and social sciences are encouraged to apply. Students must also have completed Knowledge & Power with a passing grade.

About kyle b. co

Kyle b. co. is a transdisciplinary artist, performer and printmaker. As a Black, queer, crip, plural, and gender non-conforming person, Their work often investigates cultural modes of violence through the material engagement of imbued objects, imagery and surfaces. co. is a recipient of the (2019) Rhode Island State Council for the Arts Merit Fellowship in Three Dimensional Arts, (2018) Rhode Island Council For Arts, Culture and Tourism Public Art Fellowship, (2017) Artist in Residence for Eye to Eye National, and (2012) Ellen Battell Stoeckel Fellowship.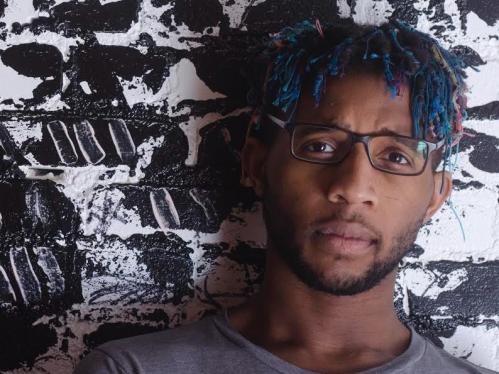 Black Women Maternal Health Inequities: A Project with Dr. Pamela Brug DC'84
Work with Dr. Pamela Brug, a Douglass alumna and expert in Black maternal healthcare, on a community health project focused on researching health inequities. A cohort of 4-6 students will be selected to research different competencies around issues of health access in Central New Jersey. Students will work with Dr. Brug to answer the research question of "what characteristics does a physician need for treating patients of different identities and backgrounds?" Stipends will be provided to students selected. A variety of majors including but not limited to public health, communications, and pre-med would be ideal to help build a team for the cohort. Students must have completed a passing grade in Knowledge & Power and be in their third year or higher at Rutgers (or with credits as a transfer).

About Dr. Brug

Dr. Brug is an alumna and OBGYN at Robert Wood Johnson. She has received numerous awards for teaching, mentoring, and community service. She started the New Jersey Black Women's Physicians Association in order to address health disparities in New Jersey, in particular black maternal and infant morbidity and mortality. The organization also advocates for advancing women of color in the medical industry. Additionally, she serves as the Co-Chair of Action Together Union County.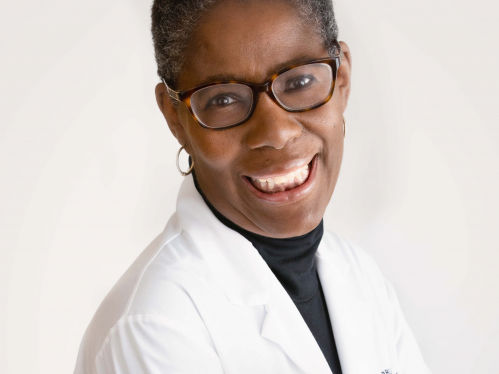 Research Women in Music and Music Cognition - Explore Two Topics with Dr. Kristen Wallentinsen
Passionate about promoting women musicians? Ever wonder about the role music plays in the brain? You have the opportunity to research both of these topics this spring with Dr. Kristen Wallentinsen! Students will join Dr. Wallentinsen to learn about issues facing women in music and music cognition through performances, panels, and planning a future research project. This experience is open to all students.
About Dr. Kristen Wallentinsen
Kristen Wallentinsen joined the Rutgers faculty in the Fall of 2019. Her dissertation focuses on mathematical representations of melodic contour in music and develops a new model for the comparison of familial similarity between groups of related contours. She is currently working to apply her contour methodology toward the study of familial relationships within a wide variety of repertoires and is also conducting cognitive research on contour perception.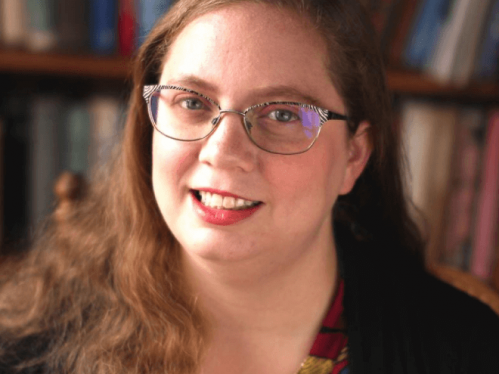 Research Topics in Spatial Justice - A Project with Drs. Anette Freytag and Kristin O'Brassill-Kulfan
Working with Rutgers faculty members Dr Anette Freytag (Department of Landscape Architecture) and Dr. Kristin O'Brassill-Kulfan (Department of History), students will explore topics related to spatial justice, access to green-space, and arts activism within the landscape of Rutgers. Stipends will be provided to student participants. Students must have completed Knowledge & Power with a passing grade. Preference given to students from Mason Gross School of the Arts and School of Environmental and Biological Sciences.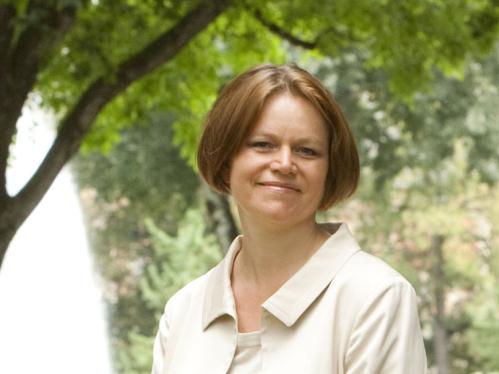 Past Project: Artist in Residence Kameelah Janan Rasheed
Kameelah Janan Rasheed is the first Douglass Artist in Residence. In partnership with Mason Gross School of the Arts, Ms. Rasheed has provided workshops on aleatoric art creation with students. In the spring semester a selected cohort of students will work with her in generating new works based in mediums of their choice.
About Kameelah Janan Rasheed 

Kameelah Janan Rasheed (b. 1985, East Palo Alto, CA; lives and works in Brooklyn, NY) is a learner grappling with the poetics, politics, and pleasures of the unfinished. With the page, the wall, the computer screen, and public space as her compositional fields, she creates associative arrangements of letters, words, and shapes that invite an embodied and iterative reading process. Rasheed is invested in Black storytelling technologies that ask us to consider ways of [un]learning that are interdisciplinary, interspecies, and interstellar. Rasheed's work has been exhibited internationally and nationally. She is the author of two artist's books, An Alphabetical Accumulation of Approximate Observations (Endless Editions, 2019) and No New Theories (Printed Matter, 2019). She is a 2021 Guggenheim Fellow in Fine Arts. Rasheed is the founder of Mapping the Spirit as well as the owner and founder of Orange Tangent Study.
Applications are closed for 2022.