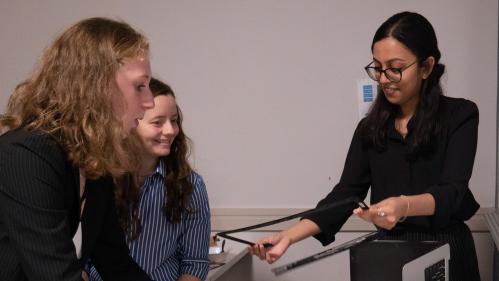 Douglass Faculty Fellows
Offering students opportunities for hands-on research, collaborative experiences, social justice initiatives, arts programming, and more.
About
The Douglass Faculty Fellows Program is a new Douglass initiative open to all students that brings cutting-edge professionals to campus to work directly with Douglass students on their projects and research. Fellows include innovators from a variety of fields, including the fine arts, social justice, medicine, academia, activism, and more. Students may be eligible to receive a stipend for their work. Read more about past projects below!
Black Women Maternal Health Inequities: A Project with Dr. Pamela Brug DC'84
Passionate about equity in healthcare? Interested in diminishing health disparities through technology and research? Work with Robert Wood Johnson physician, Dr. Pamela Brug DC'84, on her Faculty Fellows project: Black Health Inequities Experiential Fellowship.
About the Project:
Over the past two years, students were selected to work with Dr. Pamela Brug, a Douglass alumna and expert in Black maternal healthcare, on a community health project focused on researching health inequities. Students researched different competencies around issues of health access in Central New Jersey. Students worked with Dr. Brug to answer the research question of "what characteristics does a physician need for treating patients of different identities and backgrounds?" In the spring for 2023, Dr. Brug's cohort developed an app designed to help patients connect with physicians. We are pleased to announce that Dr. Brug is searching for new students to participate in this important ongoing research examining health equity and health disparities. Students will work together and with Dr. Brug to conduct research and engage in weekly reading discussions.
About Dr. Brug
Dr. Brug is an alumna and OBGYN at Robert Wood Johnson. She has received numerous awards for teaching, mentoring, and community service. She started the New Jersey Black Women's Physicians Association in order to address health disparities in New Jersey, in particular black maternal and infant morbidity and mortality. The organization also advocates for advancing women of color in the medical industry. Additionally, she serves as the Co-Chair of Action Together Union County.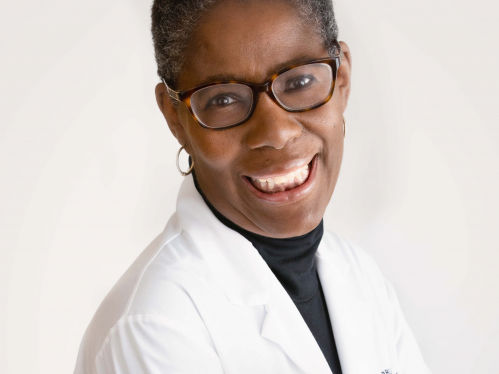 Spring Exhibition with Amina Ross, 2023-2024 Estelle Lebowitz Artist-in-Residence
Calling all Douglass artists! Looking for the mentorship of a practicing artist to hone your skills? Are you interested in having YOUR work featured in a gallery exhibition? Join Amina Ross, the 2023-2024 Estelle Lebowitz Artist-in-Residence in curating and contributing to a Spring 2024 student art exhibition!
About the Project:
Participate in a student exhibition curated by Estelle Lebowitz Artist-in-Residence, Amina Ross. Work with Ross in several hands-on workshops and submit independent work for consideration in consideration for a show in the Dana Women Artists Galleries at Douglass Library in Spring 2024. This opportunity is ideal for students with an interest or experience in visual art, but is open to all majors.
Requirements: Consideration for the student exhibition is contingent upon: participation in at least one of two workshops on November 10 and January 26; participation in a March 22 Project Discussion Workshop; and attendance at Douglass Discovery Night on April 22 from 6pm-9pm. Students selected for the exhibition receive a $500 stipend.
About Amina Ross
Amina Ross is an artist and educator who makes videos, sculptures, sounds, and situations. Their work has been recently exhibited at the Hessel Museum of Art (Hudson, NY), the Tang Teaching Museum (Saratoga Springs, NY), Laurel Gitlen (New York, NY), Sentiment (Zurich, CH), Wave Hill (Bronx, NY), Abrons Art Center (New York, NY), The Luminary (St. Louis, MO), Iceberg Projects (Chicago, IL) and M23 (New York, NY) among other venues. In the summer of 2023 they were a featured artist at the 68th annual Flaherty Film Seminar: Queer World Mending. Currently, Ross is the 2023-2024 Estelle Lebowitz Artist in Residence at Douglass College, Rutgers University. They recently completed residencies at Fire Island Artist Residency, Lower East Side Printshop, Skowhegan School of Sculpture and Painting, Wave Hill, Abrons Art Center, and Harvestworks among others. They hold a BFA from School of the Art Institute of Chicago and an MFA from Yale School of Art, where they received the Katherine Beinecke Michel Scholarship and the Fannie B. Pardee Prize in sculpture.
As an educator, Ross approaches the classroom as a site where they can co-create critical agency with students. They have taught at the Museum of Contemporary Art, Chicago,The School of the Art Institute of Chicago, and the Rhode Island School of Design. In 2023, they will serve as part-time faculty at Parsons School of Design, The New School, and an Adjunct Assistant Professor of Art at Vassar College.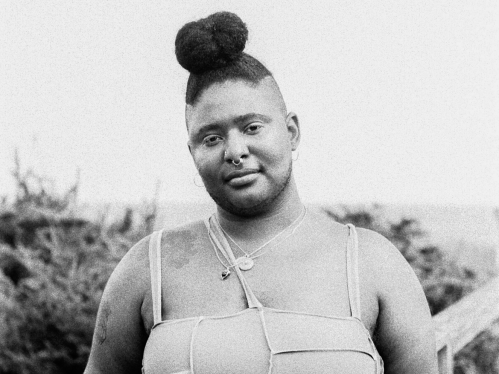 Research Topics in Spatial Justice - A Project with Drs. Anette Freytag and Kristin O'Brassill-Kulfan
Spatial justice is a scholarly field that considers how our environments, and the natural and built spaces we inhabit, reflect the inequitable social systems that create and/or maintain them, and explores ways to ameliorate these conditions. As publicly-engaged humanists, Dr. Anette Freytag and Dr. Kristin O'Brassill-Kulfan are researching spatial justice topics that with a view to using the arts, humanities, and creative-placemaking to build community through the AIR Collaborative (Arts Integration Research Collaborative), and organization enhancing inclusiveness in nature and reduce carbon emissions by augmenting the walkability of New Brunswick environments through strategies of creative placemaking and connectivity. Work with Dr. Freytag and Dr. O'Brassill-Kulfan on a range of spatial justice initiatives during spring 2024.
This opportunity is part of the Douglass Faculty Fellows program, which offers Douglass students hands-on research and collaborative projects in the arts, humanities, and social sciences.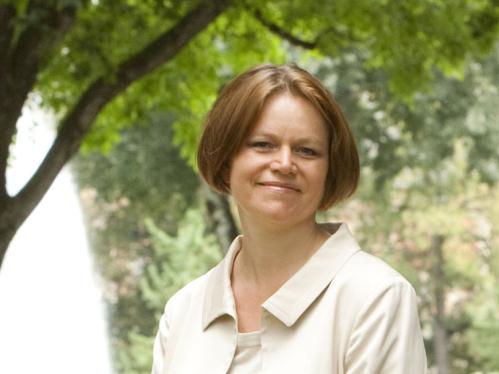 Research on Children's Number Perception with Dr. Jenny Wang
Did you know that children can perceive numbers from the first days of life? That is just one of the many wonders of early childhood. Cognitive Developmental Science is a very young scientific discipline compared to other fields such as physics and biology, but it has already revealed much about the mind and the brain, informing philosophy, education, public health, computer science, and many more fields. Work with Dr. Jenny Wang to research what factors influence the way children see numbers! Dr. Wang has been doing research on
children's perception of numbers and how it relates to their mathematical learning for over decade. She also has a passion for mentoring undergraduate students and nurturing your interests in conducting scientific research and studying young children.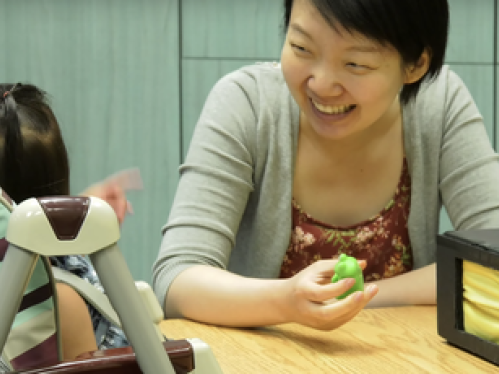 Performance as Embodied Knowledge: Rutgers & the Legacy of Fluxus Performance
Are you an artist or a performer? Interdisciplinary artist, Amanda Horowitz, is looking for students to work with her on a collaborative performance project during the Spring 2024 semester. Participants will have the opportunity to learn about different modes of performance and craft a piece together. Together, students will perform their piece at the end of April!
About Amanda Horowitz 
Amanda Horowitz is an interdisciplinary artist working between theater and sculpture. She writes and directs theater projects using experimental and collaborative methods, weaving together elements of visual art, literature, and performance into theatrical events. 
Recent projects include Bad Water, True West (2022) at Bad Water Gallery in Knoxville, Tennessee.  Keys to the Round House (2021) a performance that responds to a Fluxus performance site and old-veterinary classroom on Rutgers University's agriculture campus Suddenly, This Summer (2019) developed through a performance residency at PAM in Los Angeles. The Plumbing Tree (2018-19) co-written and directed with Bully Fae Collins, and performed at Highways Performance Space and Human Resources Los Angeles. Her Monica Lewinsky sci-fi novella has been read and performed across LA, NY, and at academic conferences over ZOOM. From 2012-2019 she was part of the theater collaborative Medium Judith with Bully Fae Collins. Her sculpture work has been shown in Baltimore, Los Angeles, and New York.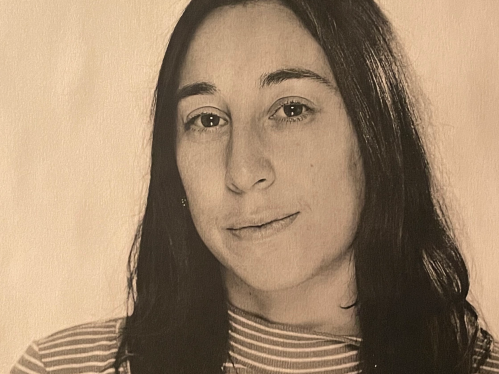 The Pronoun Project: Towards a Beloved Community for Trans and Nonbinary Rutgers students with Dr. Carlos Decena
Students will work on all aspects of a Rutgers-wide, tri-campus survey, documenting situations and conditions under which trans and non-binary Rutgers students negotiate pronoun use and misuse, the challenges they find in ensuring that peers, colleagues, professors, and supporters appreciate and engage students following their preferred pronouns, and the attendant challenges connected to pronoun misuse. No experience conducting research is necessary, but openness is crucial. Trans and non-binary students are especially welcome to get involved. A report will be presented to President Jonathan Holloway, to each of the Chancellors and the Chancellor-Provost, and to the broader university comm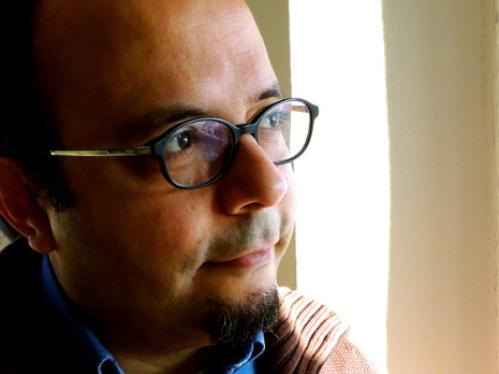 Research Women in Music and Music Cognition - Explore Two Topics with Dr. Kristen Wallentinsen
Passionate about promoting women musicians? Ever wonder about the role music plays in the brain? You have the opportunity to research both of these topics this spring with Dr. Kristen Wallentinsen! Students will join Dr. Wallentinsen to learn about issues facing women in music and music cognition through performances, panels, and planning a future research project. This experience is open to all students.
About Dr. Kristen Wallentinsen
Kristen Wallentinsen joined the Rutgers faculty in the Fall of 2019. Her dissertation focuses on mathematical representations of melodic contour in music and develops a new model for the comparison of familial similarity between groups of related contours. She is currently working to apply her contour methodology toward the study of familial relationships within a wide variety of repertoires and is also conducting cognitive research on contour perception.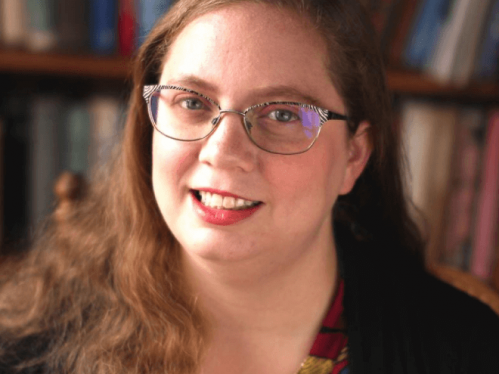 Past Projects:
Past Project: Artist in Residence Kameelah Janan Rasheed
Kameelah Janan Rasheed is the first Douglass Artist in Residence. In partnership with Mason Gross School of the Arts, Ms. Rasheed has provided workshops on aleatoric art creation with students. In the spring semester a selected cohort of students will work with her in generating new works based in mediums of their choice.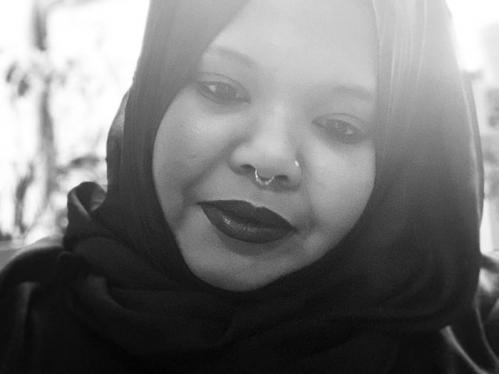 Past Project: Equity in Education Research With Hollie Hartford
Explore how transforming our K-12 system to be more diverse, inclusive, accessible and just will create a pipeline to success for marginalized groups. Students will work with Hollie Hartford to explore the research question: What are the systems, resources, structures, and processes needed to hire educators and leaders to transform the educational system so that every student can reach their full potential? Students will use an entrepreneurial lens, learning the foundations of launching a venture beginning with building a business plan, creating a pitch deck and delivering a presentation.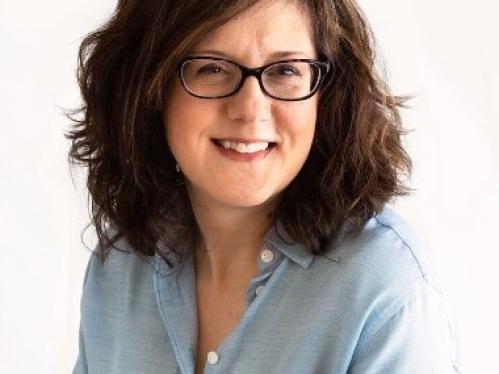 Past Project: The Rhythm of Rebellion with Taína Asili
Work with with Taína Asili, an artist who has cultivated a 25 year-long career as a singer, songwriter and multidisciplinary artist contributing her work to movements for racial, gender and climate justice. Asili will guide participants in a process of social justice songwriting, first turning our concepts into lyrics, and later, transforming these words into powerful musical creations. Participants will also explore historical and contemporary social change songs and songwriters throughout the world. No prior experience in music or songwriting required. All who are interested in exploring the process of creating art for social change are welcome.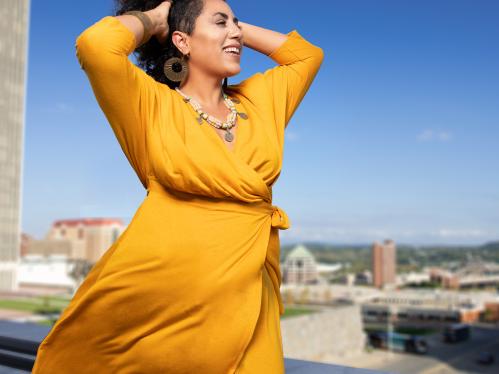 Past Project: Black Women Printmakers: A Project with kyle b. co.
Work closely with artist kyle b. co. in intensive workshops that will prepare you to become an arts scholar, print-maker, and paid museum guide for the upcoming fall 2022 exhibition, Collective Yearning.

In spring 2022, students will work with kyle b. co to learn about the history of Black women artists exhibiting and organizing. Special focus will be given to the exhibition's history and composition of the Dana Women Artist Series and collection at the Douglass library. Students will learn about the artists in the exhibition and the techniques used in the production of the works, including print-making–the primary medium used and exhibited by the artists featured in the exhibition. In fall 2022, continue to train with kyle b. co to work as a museum guide, presenting tours to university staff, faculty, students and the broader community during the exhibition. Stipends will be provided for students who work as guides in fall 2022. Students from arts, humanities, and social sciences are encouraged to apply. Students must also have completed Knowledge & Power with a passing grade.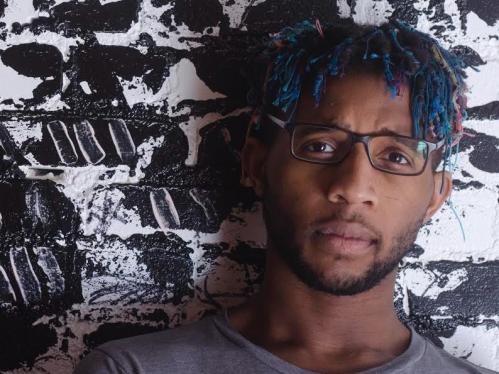 Past Project: Artist-in-Residence Baseera Khan
Students will work with Baseera Khan, a New York-based performance, sculpture, and installation artist recently featured in the Brooklyn Museum. Khan will collaborate with students on an art project that combines mediums exploring the fine line between desire and surveillance.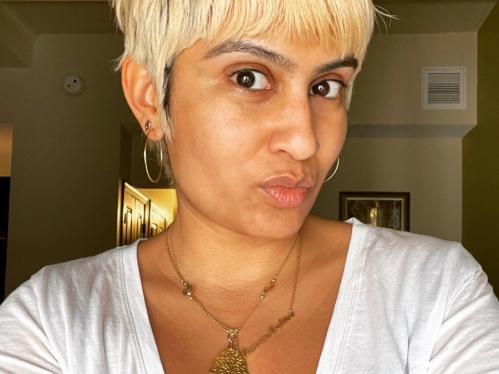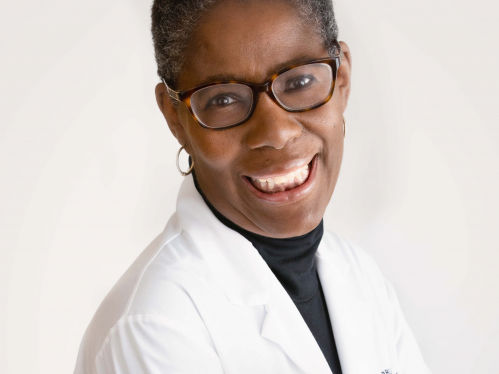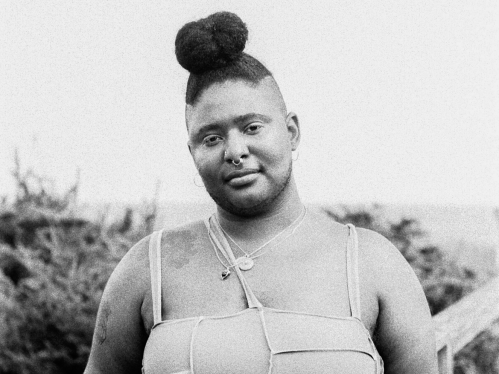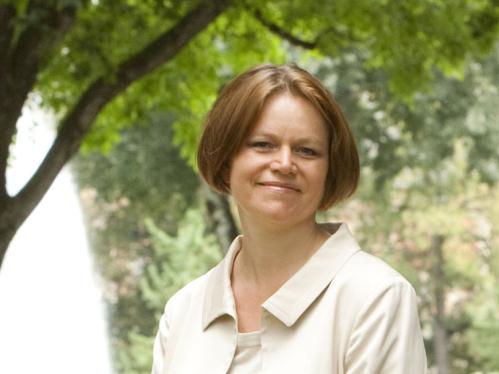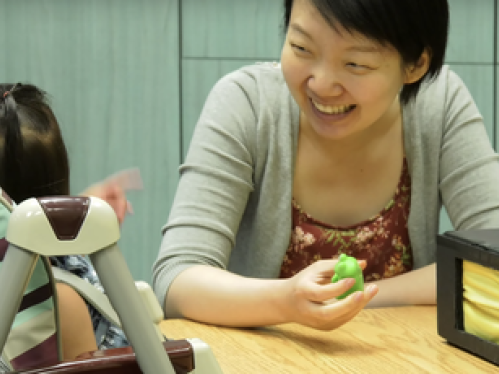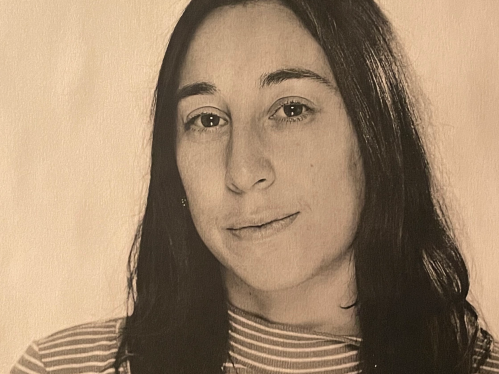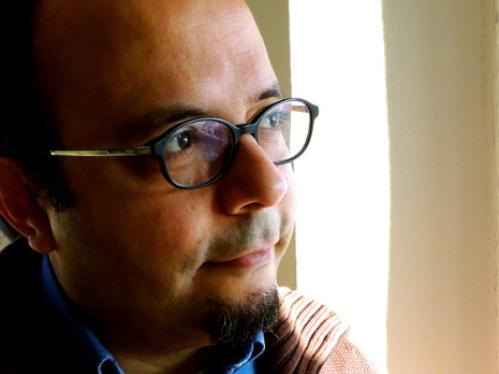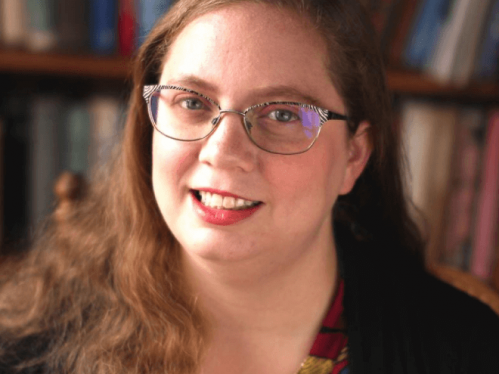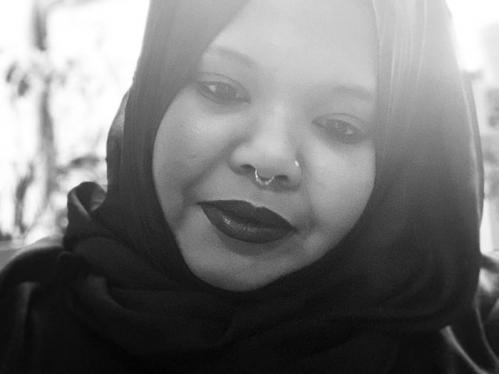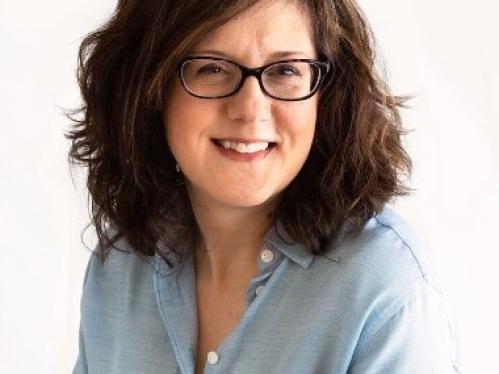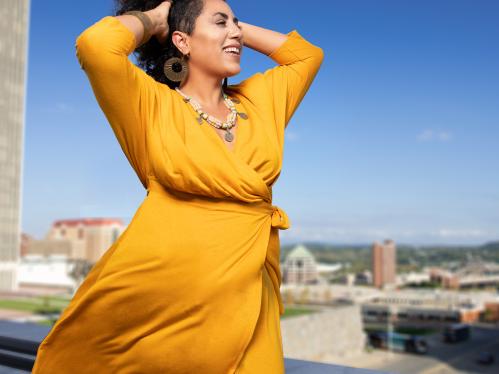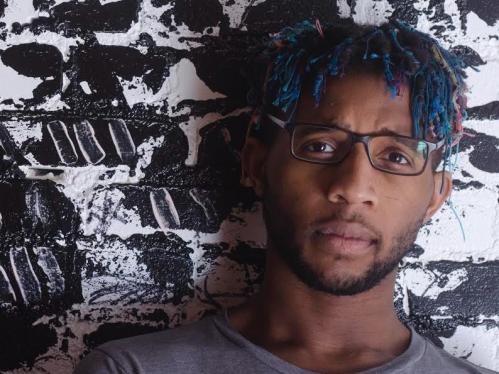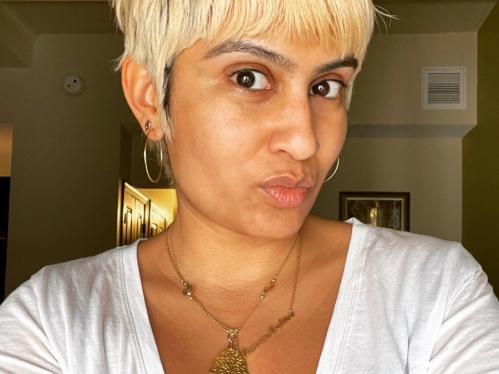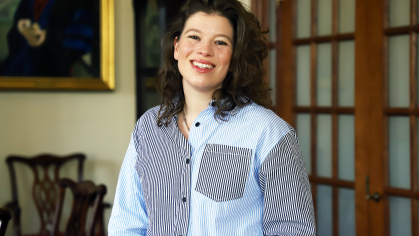 Please reach out to Dr. Katy Grey with any questions at katy.grey@rutgers.edu