About Global Village Learning Communities 
Global Village Learning Communities offer a year-long experience in a themed "house." You will take a credit-bearing course, conduct research on a topic related to the theme, and engage with the larger New Brunswick community through service learning. Participating in a Global Village Learning community makes you eligible to join the Global Leaders study abroad program in a subsequent year.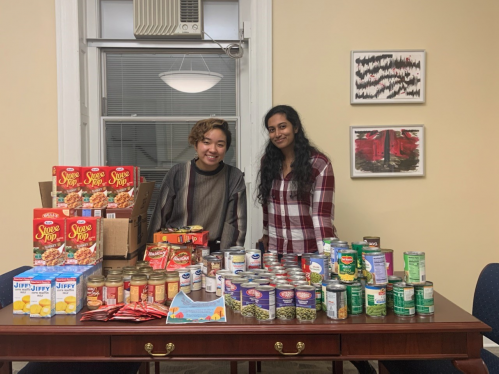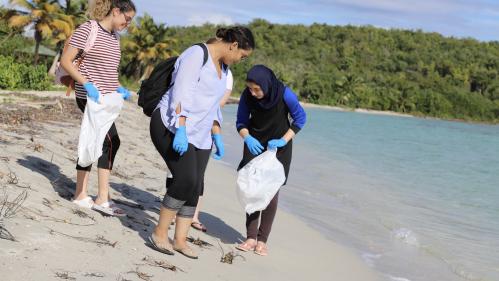 Africana: Gender & the Black Diaspora
Engage with the Black American, African, and Caribbean cultures in New Brunswick and beyond. Learn about the contemporary issues facing members of the African Diaspora and explore Black feminist thought through cultural manifestations of identity politics.
Art as Activism
Cultivate your own creative spirit through hands on engagement with different art forms. Explore women in art as change agents around the world and connect to your inner activist through multi-modal creative expressions.
In the spring semester, students will curate an exhibition of artwork from the course.
Global Cuisine
Global Cuisine introduces students to the cultural contexts of nutrition and cuisine as this impacts girls and women. Students will examine issues of food scarcity & security, genetically modified food, & health. The course will also explore women who influence the global food chain & issues of access, equality, & social justice related to nutrition. There will be cuisine sampling in the classroom & around the region. Engage in local & regional travel opportunities, special events, and activism.
Global Health & Medicine
Global Health & Medicine explores public health challenges as a women's issue in New Brunswick and around the world. Delve into a variety of practices of medicine designed by and from women and girls in a global context. Explore the role women have played in research, and barriers to women in medicine careers. Evaluate equity within global health worldwide, and make recommendations for improving the lives of women both locally and globally.
Greenhouse: Environmental Sustainability
This house focuses on the importance of developing and implementing sustainable environmental practices that influence behavior, education, environmental access, bioterrorism and more. This house is centered on nutrition, both physical and renewable resources and the urgency for answers to climate change
La Casa
Explore the Spanish-speaking world through the study of culture of countries in Africa, the Caribbean, the Americas, & the U.S. Latinx world. Engage with rich cultural diversity & learn how populations from distinct countries & cultures became portrayed as a single group. With an emphasis on the representations of women's identity in traditionally Spanish speaking contexts, the majority of the material and activities are in Spanish.
Global Genders & Sexualities
This community will center on a range of different genders and sexualities in both historical and contemporary times. This house will focus on expanding the knowledge and development of history and policies concerning the LGBTQ+ community from a global standpoint and the influential role LGBTQ+ communities play in society.
Women & Media
Women are underrepresented in the media and it has harmful impacts. This house will focus on bringing women's stories to light and placing emphasis on them, studying the implications this underrepresentation causes, and how to proactively advocate for women in media, both in front of and behind the camera.
Human Rights
Engage with the effects of social and historical oppression on diverse and disempowered populations at home and around the world. Develop hands on experience through community service, and put theory into action by sharing what you learn with the University community through project based learning. Leverage critical thinking skills to explore your own ideas of human rights, privilege, and identity to address inequality and discrimination on a national and global scale.
Apply today!
Apply for the Global Village by filling out the below applications. On the application you will be prompted to select your house choices. *Note: residential students must also complete the Rutgers housing application.
Learn more about life in the Global Village!