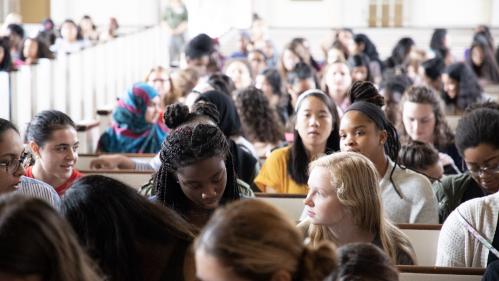 The Douglass Global Village Learning Communities!
About Global Village
The Global Village Learning Communities offer a year-long experience in a themed "house." You will take two credit-bearing courses in the Fall and Spring, conduct research on a topic related to the theme, and engage with the larger New Brunswick community through service learning. Participating in the Global Village community makes you eligible to join the Global Leaders program in a subsequent year. Open for residents and commuters.
Application Open Now!
*Please note, residents must also apply through the Rutgers Housing Application open in January if they desire to live in Jameson with the community.
Engage with Africana Studies and the African Diaspora in New Brunswick and beyond. Learn about the contemporary issues facing members of the African Diaspora in North America and explore Black feminist thought through cultural manifestations of identity politics. Enhance your academics with local and regional travel opportunities, special events, and local and global activism.
Explore the Spanish-speaking world through the study of culture of countries in Africa, the Caribbean, and the Americas, as well as the U.S. Latinx world. Engage with the rich cultural diversity of Spain, Latin America, the Caribbean, the United States, and Equatorial Guinea, and learn how populations from distinct countries and cultures became portrayed as a single group.
Delve into a variety of practices of medicine designed by and form women and girls in a global context. Explore the field of medicine, the role women have played in research, and barriers to women in medicine careers. Learn about practical elements of a career in medicine, and engage with guest speakers from local, national, and regional organizations.
This house focuses on the importance of developing and implementing sustainable environmental practices that influence behavior, education, environmental access, bio-terrorism and more. This house is centered on nutrition, both physical and renewable resources and the urgency for answers to climate change. 
Become a Douglass student for $75 a semester - Click Here
Complete a yearlong academic class by registering for a 1.5 credit course in the Fall and the Spring in the house you apply to
Participate in house service-learning projects and excursions

Housing applications for continuing students open in early spring semester.

You don't have to major in the house theme – in fact, it's a great way to make you a well-rounded global community member if you decide to live in a community that's different from your major
Commuters and transfer students are welcome