About
Connect to the Douglass network through on-campus housing, living-learning communities focused on a variety of disciplines, student organizations, and special opportunities for  commuters. Build a multi-layered sense of community on campus. Connections between Douglass students, staff, and alumnae establish a network of empowerment like no other
Join a Living-Learning Community
Living-learning communities enhance your residential experience throughout college. At Douglass, you can choose from a number of communities that align with your interests and goals.
Live on Campus
Students find that the quiet and collaborative atmosphere of Douglass residence halls enriches their learning. You'll easily concentrate on important projects, find study partners and form friendships with students who have similar academic pursuits. Making Douglass your college home is easy!
Learn more about living on the Douglass campus!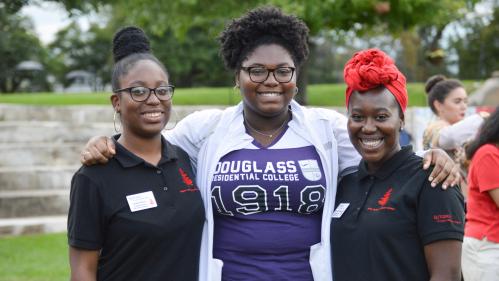 Student Organizations
Get involved on campus by joining a student organization! Douglass organizations cover a variety of interests and causes. Find your niche today!
Don't live on campus? No problem!
Douglass is committed to being an inclusive community for nonresidential students. Students who commute to class have access to special student organizations that host study hours and events in a designated lounge in the Douglass Student Center. Nonresidential students are also eligible to join living-learning communities–just without the on-campus living component!