About
Take a direct route to research and hands on learning in a variety of fields through Douglass Discovery. Build your resume and expand your horizons by collaborating directly with faculty, professionals, corporate leaders, artists, and other Douglass Fellows on their work including laboratory research, arts initiatives, public health projects, and more!
Apply for Research Opportunities with Faculty Fellows!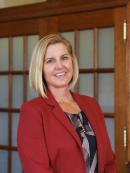 Associate Dean for Undergraduate Programs
Stories from Douglass Discovery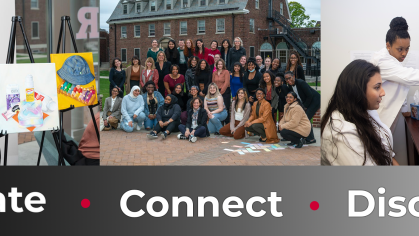 The College is excited to announce a new cohort of Faculty Fellows for the 2022-2023 school year!
The Douglass Faculty Fellows Program is a new Douglass initiative open to all students that brings cutting-edge professionals to campus to work directly with Douglass students on their projects and research. Fellows include innovators from a variety of fields, including the fine arts, social justice, medicine, academia, activism, and more. Students may be eligible to receive a stipend for their work.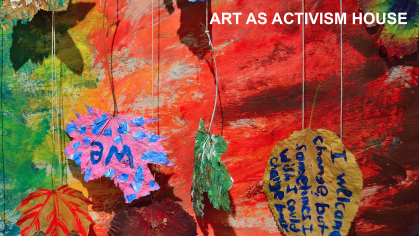 The Global Village Art as Activism House, a Douglass living-learning community focused on the global role of art in social justice, wrapped the academic year by putting on their annual exhibition.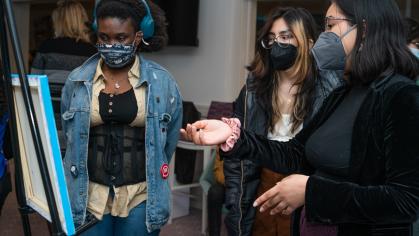 The Douglass Global Village and the Douglass Discovery Faculty Fellows program held the first annual Douglass Day, an event in which students presented the projects they worked on this past semester. The evening offered students the opportunity to share their work, showing the entire college community all that can be achieved through Douglass programs!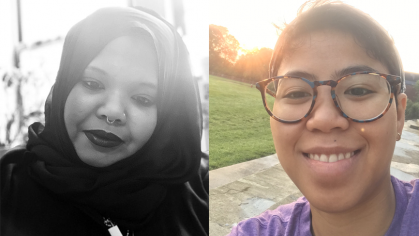 Internationally renowned artist Kameelah Janan Rasheed is the 2021-2022 Douglass Artist-in-Residence. The program is a unique collaboration between Mason Gross School of the Arts and Douglass' new Faculty Fellows initiative, which brings cutting-edge professionals to campus to work hands-on with Douglass students. Rasheed's workshops and seminars offer a cohort of Douglass artists a direct path to experiences as artists, scholars, and activism. For student artist and filmmaker Lance Margarett O. Panes DRC'23, working with Rasheed has been a dynamic experience that empowers her creativity and encourages her artistic passions across a variety of  mediums.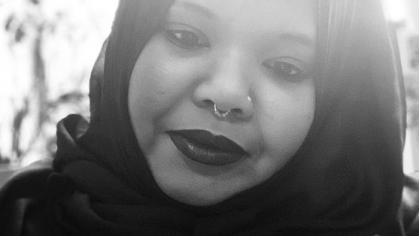 This fall, Kameelah Janan Rasheed will begin an artist's residency at Rutgers University­–New Brunswick through a partnership between Douglass College and Mason Gross School of the Arts. Her residency will offer students from both institutions the chance to express their creativity alongside a nationally and internationally known artist.