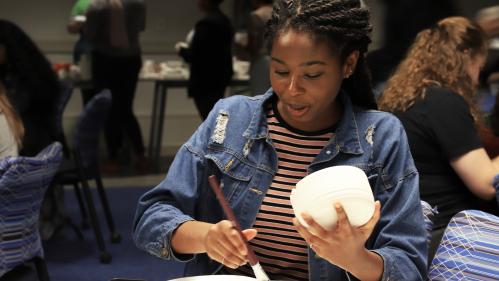 Center for Women in the Arts at Douglass
About
The Gender and Arts Program provides experiential arts offerings to Douglass students and brings to the University community the work and ideas of exceptional women and gender minority identifying artists through exhibitions and year-long campus residencies. This program is designed so that students develop, build upon, and maintain a lifelong connection with the arts that enhances their professional aspirations.
Students can get involved by becoming a member of the Douglass Arts Advisory Board; attending on-campus workshops led by the Artist-in-Residence, other artists, arts professionals, and students; and joining the Gender and Arts Cohort to receive a Douglass Gender and Arts Certificate. Students who complete the certificate also earn curriculum credit for the Douglass Discovery Requirement. Other opportunities include visits to museums and galleries. The Gender and Arts Program supports creating community through arts programming and various opportunities for student creative endeavors. This program is open to all Douglass majors. Select programming is open to the general Rutgers Community.
The Douglass Arts Certificate
Acknowledgements
The Gender and Arts Program was founded in 2019 thanks to a generous gift from Douglass alumna, Juliette Mittendorf Hil. As an artist and art teacher, Juliette Mittendorf Hill (DC '42) hoped to provide all Douglass women an opportunity to engage and interact with different arts disciplines, regardless of a student's major. She felt that knowledge of the arts and creative practices was an important part of a well-rounded liberal arts education. Funding opportunities are available to support student projects thanks to this gift.
The Artist-in-Residence is part of the Douglass Faculty Fellows program and is funded in part by the Estelle Lebowitz Memorial Fund. The fund was endowed in 1999 by Professor Joel Lebowitz, Director of the Center for Mathematical Sciences Research, Rutgers University, in honor of his late wife, artist Estelle Lebowitz. The Artist-in-Residence program is in partnership with the Art & Design Department, Mason Gross School of the Arts. This endowment was secured under the leadership of Ferris Olin (DC '73), Distinguished Professor Emerita, Rutgers University. In 2023, the Douglass Artist-in-Residence program was merged with the Estelle Lebowitz Endowed Visiting Artist program.
The Mary H. Dana Women Artists Series is a program of Douglass Residential College in partnership with Rutgers University Libraries. It is the oldest continuous running exhibition space in the United States dedicated to making visible the work of emerging and established contemporary women artists. DWAS was founded by artist Joan Snyder (DC '62) and established at the Mabel Smith Douglass Library in 1971 under the leadership of Library Director, Daisy Brightenback Shenholm (DC '44). Formerly known as the Women Artists Series, in 1987 the Series was endowed by Professor Emerita Nelle Smither and renamed in memory of her friend Mary H. Dana (DC '42).