About
Student culture at Douglass is largely influenced by the diverse student body. The Diversity, Equity, and Inclusion Program trains 25-45 ambassadors each year to lead conversations with other students on campus on topics such as allyship, LGBTQ+ justice, ableism, racism, and mental health.
The program seeks student leaders that are passionate about causes and initiatives that foster diversity, equity, and inclusion. Students interested in creating a greater sense of community among Douglass students, celebrating the variety of cultures and experiences within Douglass, and advancing open mindedness and diversity of thought are encouraged to apply.
The Ambassador Experience
Ready to Apply?
Ambassador applications are open here.
Questions About The DEI Ambassador Program?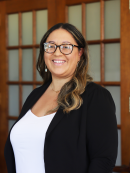 Corina Hernandez (she/her)
Senior Director of Diversity, Equity, and Inclusion
Resource lists:

Readings & Books:

Podcasts:

Videos/Films/TV Series: