STEM Trailblazers Visit Douglass at the Annual STEM Lecture and Project SUPER Research Symposium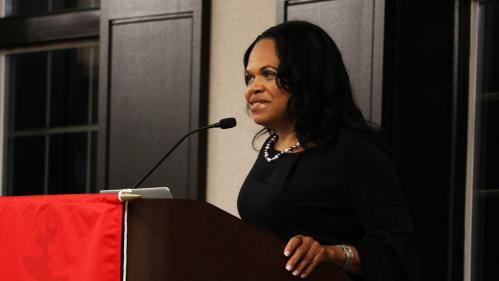 On Friday, October 11, Douglass held the Annual STEM Lecture sponsored by Dr. Eileen Poiani DC'65 and the Project SUPER Research Symposium. The event, which was composed of an undergraduate research poster session, a lecture by Dr. Ashanti Johnson, and the presentation of The Douglass Project Award, honors students and professionals who have contributed to the empowerment of students in STEM fields. 
The evening kicked off with The Project SUPER Research Symposium. Students who participated in Project SUPER, Douglass' undergraduate research program, presented their findings from their summer projects. This past year, 84 students had the opportunity to participate in the program—double the number of participants from last year. Over the summer, students worked with faculty and professional mentors to immerse themselves in the laboratory. Given the large cohort of students, all with their own unique interests, poster projects ranged from microbiology to artificial intelligence. 
"Project SUPER, this whole event, has been such a great experience," said Juliana Felix DRC'21. "It changed my whole perspective on working in a lab. I recommend everyone try out this program—it's life-changing."
The guest lecturer for this year's lecture was Dr. Ashanti Johnson, a leading environmental scientist who is heralded as one of the best oceanographers of this generation. Dr. Johnson is the first African American to earn a doctoral degree in oceanography from Texas A&M University. Her lecture, "Advancing Oceanography," focused on empowering underrepresented groups in STEM.  After Dr. Johnson's lecture, The Douglass Project Award was presented to Helen Buettner, Professor and Chair of the Rutgers Department of Chemical and Biochemical Engineering, and Vildan Kortan, the Group Director of External Analytical Strategy & Management at Bristol-Myers Squibb. Both are leaders in creating STEM opportunities for Douglass students.