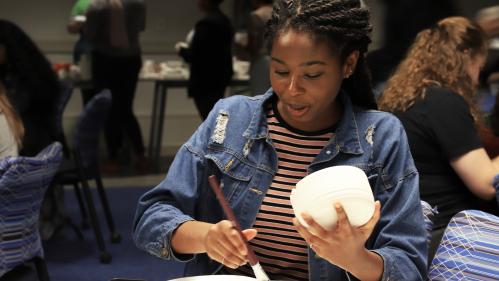 Artists on the Leading Edge
About
The Gender and Arts Program provides offerings in the arts for Douglass students including an an elective seminar course, capstone project, the annual Douglass Arts Exhibition, and the Douglass Arts Certificate. Other opportunities include on-campus workshops with active artists, trips to experience music, theater, and dance performances, and opportunities for student creative endeavors. All of these activities are designed so that students can develop and maintain a lifelong connection with the arts that will supplement their professional aspirations.
The Douglass Arts Certificate
About Juliette Mittendorf Hill
The Gender and Arts Program began in 2019 thanks to a generous gift from Douglass alumna, Juliette Mittendorf Hill. As an artist and art teacher, she hoped to provide all Douglass women an opportunity to engage and interact with the different arts disciplines, regardless of a student's major. She felt that knowledge of the arts and creative practices was an important part of a well-rounded liberal arts education. Funding opportunities are available to support student projects thanks to a gift from Juliette Mittendorf Hill.