On Sunday, December 4, Douglass' Annual Yule Log Ceremony took place in Vorhees Chapel. Stair seniors, The Traditional Events Committee, and the Voorhees Chapel Choir led the community in a program filled with songs, readings, and traditions drawn from a diverse mix of cultures and religions. This year, Julianne D'Avirro Humphrey DRC'23 and Amanda Shapiro DRC'23 led the planning of the event as the student co-chairs of the Douglass Traditional Events Committee.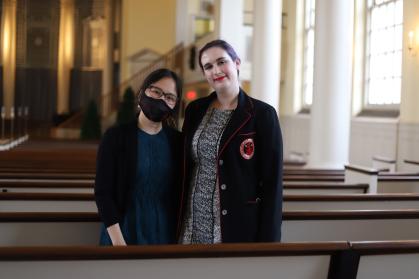 "We are happy to have helped continue this long-standing tradition and as seniors we are excited to pass it on to our next co-chairs," said the duo.
As student leaders, they worked directly with their Douglass peers to recruit and organize student participation. Together they selected students for positions, held rehearsals, and provided leadership to those in the production. They also guided the iconic stair seniors through their final Yule Log as students.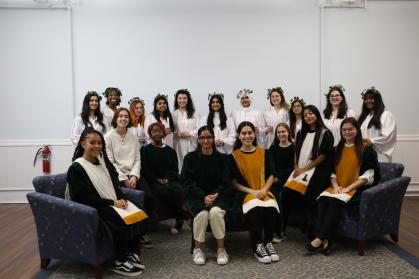 The selected students for this year's cohort of stair seniors were:
Noor Amanullah DRC'23

Medhavi Anand DRC'23

Joanna Aponte DRC'23

Maria Chowdhury DRC'23

Marissa Hayton DRC'23

Andrea Jimenez DRC'23

Maryum Khan DRC'23,

Catherine Kratka DRC'23

Mackenzie Lawson DRC'23

Alyssa McKendry DRC'23

Komal Mir DRC'23

Arielle Mompoint DRC'23

Fizza Naqvi DRC'23

Pankti Patel DRC'23

Julie Pfeffer DRC'23

Emily Resal DRC'23

Yusra Ulhaq DRC'23

Reagan White DRC'23
The Yule Log Ceremony was the first traditional event established at the NJC when the College initially opened its doors in 1918. For over 100 years, the ceremony has remained a beloved Douglass tradition. The first Yule Log Ceremony originated when students, filled with the holiday spirit of the season, asked to burn a yule log in the fireplace of College Hall. On the evening of the first ceremony, the students lined the staircase holding candles and singing holiday songs, while a yule log was lit in the fireplace. Now, the tradition continues as a ceremony that celebrates the diversity of thought and cultural backgrounds that make Douglass the unique institution it is today. From a rendition of "Deck the Hall" from the Vorhees Choir to a reading from the Qu'ran, the celebration is one that unites all those in the Douglass community in the winter spirit.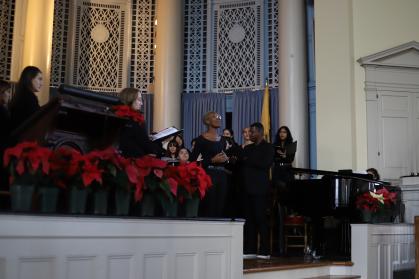 "We hope everyone enjoyed it," said D'Avirro Humphrey and Shaprio. We're looking forward to seeing Yule Log from the audience next year!"
Following the ceremony, the Douglass community gathered at the Kathleen W. Ludwig Living-Learning Center for a dessert reception. The Yule Log Ceremony is a tradition that will continue to unite the Douglass community for years to come, brightening the winter season for all.