Douglass Residential College Honored with 100th anniversary Resolution by the New Jersey State Assembly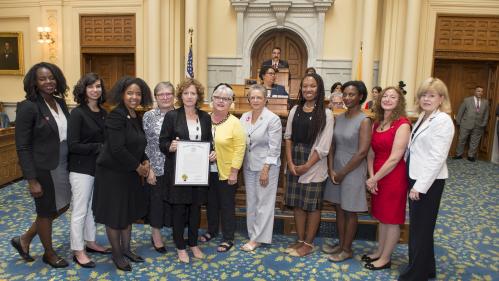 On Thursday, June 22, 2017, Douglass staff, students, and alumnae met with members of the New Jersey State Assembly to receive a Resolution celebrating 100 years of women's education at Douglass. This Resolution complements one Douglass received earlier this year from the New Jersey State Senate.
Douglass was lauded for its "sterling reputation as an institution focused entirely on the success and advancement of undergraduate women who seek both the benefits of an all-women college and the resources and options of a major public research university."
The Assembly acknowledged the College's diversity, its ability to cater to a wide range of interests, and its historic focus on supporting women in science, technology, engineering, and mathematics majors. Academic enhancements such as mentoring, leadership groups, and themed and language-based housing, were recognized for contributing to the intellectual growth of our students.