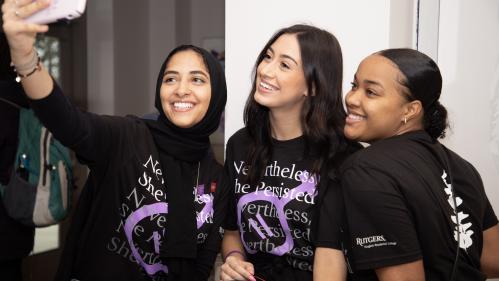 Inclusive Learning Opportunities
Women's Day at Douglass - Women's Day at Douglass is an annual event that aims to commemorate and honor the resilience, strength, and work of women globally. Speakers, service-learning, self-care activities, and more bring the Douglass community together to celebrate and learn.

Conferences - Douglass students involved in diversity, equity, and inclusion programming are encouraged to take advantage of funded travel to conferences around the country. Last year, student traveled to the Advancing Equity & Anti-Racism Strategies on Campus conference in San Diego, California.

DEI Faculty Fellows -

The Douglass Faculty Fellows Program is a new Douglass initiative open to all students that brings cutting-edge professionals to campus to work directly with Douglass students on their projects and research. Fellows include innovators from a variety of fields, including the fine arts, social justice, medicine, academia, activism, and more. Students may be eligible to receive a stipend for their work. Read more about past projects below!

Off campus Experiences - Museums, workshops, art exhibits, monuments, etc. 
View photos from past events!